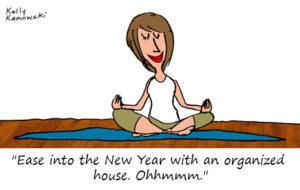 The last thing that special person in your life needs, who also happens to be challenged by too much stuff, is more stuff.
Some people have too many useless or long forgotten objects to fill up a void in their lives, especially if they live alone. Others hold on to things to hold on to memories. There are also those who keep things for their potential use. Unfortunately these things rarely if ever get used. Fear of loss or pain is another reason people keep things they don't really need.
Instead of buying one more thing, here's a list of my favorite gifts for that special "collector" in your life. The best part of these gifts is they involve spending time with you! Because if you are reading this, you are probably pretty special too.
A personalized gift certificate from you for a special experience or outing you could enjoy together.
Gift card to their favorite restaurant.
Tickets to a concert or an event.
Gift certificate for a consultation with a professional organizer. Be sensitive with this one. Do it only if you know them well and you have asked them if they would like some expert advice.
A month's subscription to their favorite entertainment streaming service.
Membership to a local health club.
Gift certificate for a class they've been talking about taking.
Tickets to a local tourist or holiday attraction and offer to go with them.
A trial membership for a healthy food delivery service.
Have a favorite photo or piece of art, professionally framed for them. It won't add to their clutter and it will remind them of you and something or someone they love.
Wishing you a joyous, peaceful and organized holiday season.